Chemical Peels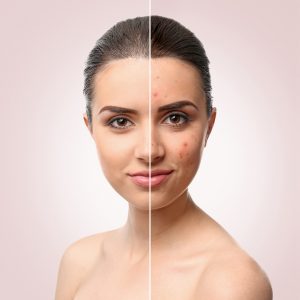 Wouldn't it be great if the signs of facial aging could simply be peeled away from the skin? An experienced med spa treatment provider can actually make this happen to a certain extent using chemical peels. Chemical peels are designed to mitigate the several signs of aging from the face, hands, neck, and chest.
Board certified plastic surgeons at the Aesthetic Center for Plastic Surgery (ACPS) provide safe and proven non-surgical med spa services, including light, medium and strong chemical peels to patients in Houston, Texas, TX, and surrounding communities.
Chemical Peel Advantages
Chemical peels are helpful in addressing dermatology conditions, such as various types of acne. They can also treat conditions causing skin discoloration. You can benefit from the following regardless of whether you undertake the procedure for treating skin conditions or signs of aging:
Even skin color
Fewer lines and wrinkles
Smoother skin
Dazzling complexion
Uses of Chemical Peels
Chemical peels are used by med spa specialists for addressing the following:
Acne
Age spots
Dull complexion
Freckles
Melasma
Fine lines
Discoloration
Rough skin
Sun damaged skin
Chemical Peel Treatment Procedure
You may need to follow a pre-peel skin regimen for a few weeks before receiving the chemical peel treatment. Pre-peel plan can help reduce side effects and enhance the results. Your med spa expert will advise you whether this is required or not.
You will be prepped for the peel which will involve cleansing and general anesthesia (only in deep peel treatments). Your dermatologist will apply the peel using rapid and even motions. They will monitor your skin and remove the peel when it is time.
Your skin will be treated as required once the peel comes off. Generally, cool compresses are applied on patients that have a medium peel. This is followed by a soothing lotion or cream. Patients with deep peels will need surgical dressing on their wounds.
Frequently Asked Questions
Do chemical peels need any downtime?
Patients need downtime after a deep or medium peel medical spa treatment. Deep chemical peels will need you to stay at home for 2 – 3 weeks.
When should I expect to see results?
You should be able to see outcomes when the skin begins healing. This can be anywhere from a day to 14 days or longer depending on the type of peel you got.
How long do results last?
Most chemical peel outcomes don't stay for long since the skin continues to age. In case of significantly damaged skin or AKs (precancerous growths), patients would continue seeing spots and new growths on their skin.
Do chemical peels have any potential risks or side effects?
Side effects are generally mild when the chemical peel is applied by an experienced doctor. However, patients should know that they can develop:
Persistent redness remaining for several months
Temporary skin darkening
Lighter skin color with deep or medium peels
Scarring (extremely rare)
Patients should know that complications are part of every aesthetic procedure, and the risks can be mitigated at the hands of experienced treatment providers. Cosmetic surgeons at the ACPS receive patients from Houston, Texas, TX, and nearby areas for innovative and advanced med spa services, such as chemical peels.
For more information about The Aesthetic Center for Plastic Surgery (ACPS) physicians and the cosmetic surgery treatments and procedures they perform please click here or call us at 713.799.9999. We have offices in and around Houston, Texas.
Click here to see our pricing list.
Serving Houston, The Woodlands, Sugar Land, Katy, Friendswood, Pearland, League City, Richmond, Spring, Humble, Kingwood, Stafford, Cypress, Fulshear, Missouri City, River Oaks, Piney Point, Hunters Creek, Memorial Close In, Bunker Hill, Southside Place, Afton Oaks, Tanglewood, Crestwoods and all other surrounding Greater Houston, Texas communities and more.