Restylane Dermal Filler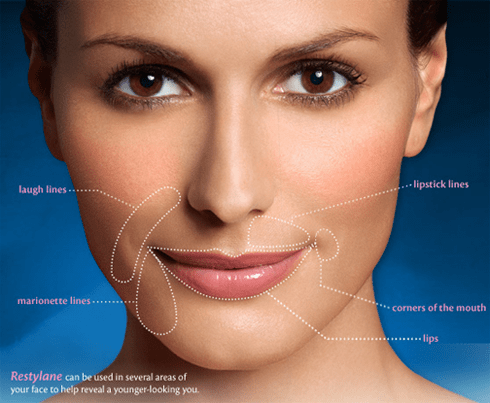 Restylane provides for a non-surgical way to restore and rejuvenate facial appearance in an effective and safe procedure. The soft tissue treatment is designed to hide or slow down the affect of various signs of aging on the face. Restylane comes in the form of gel-based dermal injectables. It contains naturally occurring hyaluronic acid, which helps in filling wrinkles and facial lines.
The dermal filler also provides the skin with lubrication and moisture to enable a more refreshed, attractive and youthful appearance. During your initial consultation, you should discuss the benefits and limitations of Restylane with your treatment provider. The Aesthetic Center for Plastic Surgery (ACPS), led by board certified plastic surgeons, provides Restylane soft tissue filler injections to patients in Houston, Texas, TX, and surrounding communities.
Restylane Treatment Areas
Restylane dermal fillers are available in various forms. This makes it possible for the gel to be used in almost any facial area. This includes the highly delicate areas around the eye. Restylane injectable can also be used within creases, deep folds, and fine lines. The treatment is a popular choice to fill laugh lines and fine mouth lines.
Large particle sized variants help in enhancing facial contours as well. Restylane includes an innovative HA formulation that helps in the treatment of sagging eye skin, under-projected cheekbones, and receding chins. Restylane is commonly used as lip fillers as well to enhance their shape and size.
Restylane Touch
This variant is specifically used for treating fine lines and wrinkles. Restylane Touch, among all available variants, has the smallest particle size. The treatment provider can inject the gel into the tiniest of crevices. This is why Restylane Touch is a popular treatment for addressing fine lines around the eyes and mouth. It can be injected right under the skin to attain instantaneous results. The gel helps in making the skin younger looking and tauter.
Restylane Perlane
Perlane has a marginally larger particle size as compared to Restylane Touch. The dermal injectable is available as a gel formulation as well. This allows it to be used to treat wrinkles, fine lines, deep creases, and folds. Restylane Perlane can be used for adding volume to the lips.
Restylane SubQ
This is a NASHA (Non-Animal Stabilized Hyaluronic Acid) based gel, which immediately volumizes the skin. Restylane SubQ helps in contouring the cheeks and the chin with depleted volume because of aging. The treatment option offers a predictable as well as a safe level of correction.
Overcorrection is impossible when it comes to Restylane SubQ. The formulation can easily and rapidly restore or generate the required facial symmetry for improving features and making them more prominent.
How Does It Work?
Restylane injectables can be used for adding volume to facial structures and skin. The human contains hyaluronic acid naturally. Restylane formulation contains this HA in an almost similar form, making the gel biocompatible.
Restylane injections help in delivering additional volume that can plump as well as smooth creased, wrinkled, and lined skin. Cosmetic surgeons at the ACPS receive patients from Houston, Texas, TX, and nearby areas for Restylane facial filler treatment.
For more information about The Aesthetic Center for Plastic Surgery (ACPS) physicians and the cosmetic surgery treatments and procedures they perform please click here or call us at 713.799.9999. We have offices in and around Houston, Texas.
Click here to see our pricing list.
Serving Houston, The Woodlands, Sugar Land, Katy, Friendswood, Pearland, League City, Richmond, Spring, Humble, Kingwood, Stafford, Cypress, Fulshear, Missouri City, River Oaks, Piney Point, Hunters Creek, Memorial Close In, Bunker Hill, Southside Place, Afton Oaks, Tanglewood, Crestwoods and all other surrounding Greater Houston, Texas communities and more.