Though these promotions are no longer in effect, this will give you an idea of our previous events and specials.
YOU'RE INVITED TO OUR THERMIRF EVENT!
Learn about the benefits of ThermiRF treatments
and enjoy exclusive savings!
OUR THERMIRF EVENT:
WEDNESDAY, NOVEMBER 30, 2016
4:30-7:00 PM
Bring a friend, and you will receive a $25 gift card, plus you and your friend will be entered to win a special gift.
---
ENJOY EXCLUSIVE, EVENT-NIGHT-ONLY SAVINGS ON GIFT CARDS:
PURCHASE A $500 GIFT CARD, RECEIVE $75 IN FREE GIFT CARDS
(THREE $25 GIFT CARDS).
PURCHASE A $1,500 GIFT CARD, RECEIVE $250 IN FREE GIFT CARDS
(FIVE $50 GIFT CARDS).
PURCHASE A $2,000 GIFT CARD, RECEIVE $300 IN FREE GIFT CARDS
(SIX $50 GIFT CARDS).
*Free Promo Gift Cards can be given out as individual gifts. Promo Gift Cards cannot be combined with any other purchased gift card(s) or other spa promotions. Only one individual gift card can be used at a time and may only be used towards a different spa service.
---
LEARN ABOUT AND SAVE ON THE FOLLOWING THERMIRF TREATMENTS:
 
ThermiTight® is a non-surgical, minimally invasive, skin tightening treatment that treats sagging skin on the face and body. Most patients see significant results within just one treatment.



Before and after ThermiTight®
ThermiTight® received a worth-it rating of 81% on RealSelf.com.



ThermiSmooth® is a non-invasive treatment that improves aging skin by rebuilding collagen on your face and body. Patients see optimal results after 3-4 treatments and experience no pain or downtime.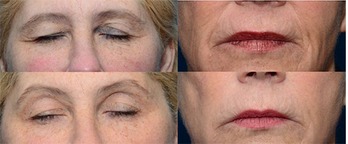 Before and After ThermiSmooth®
ThermiSmooth® received a worth-it rating of 70% on RealSelf.com.







ThermiVa® is a non-invasive treatment for female genital rejuvenation. Patients enjoy that it is pain-free with no downtime.
ThermiVa® received a worth-it rating of 98% on RealSelf.com.
---
RESERVE YOUR SPOT TODAY!
CALL: (713) 701-9322
OR EMAIL: MAVI@ACPS.COM
THE LIPS YOU WANT… THE LINES YOU DON'T.
We can give you the ideal smile you've been wanting! ACPS offers several FDA-approved fillers, specifically designed for the lips.


Restylane® Silk and the new Allergan Vobella® are safe and effective in filling the fine lines on and around the lips, while Restylane® and Juvederm are great for shaping the lips.


OUR SPECIAL OFFER:
Purchase a lip augmentation treatment at the regular price ($700), and receive a free area of BOTOX® or Dysport® ($350 value).
*Offer valid through October 31 and limited to one per person. Lip augmentation treatment is defined as 1 ml of Restylane or Allergan Hylaronic filler. An area of Botox or Dysport is defined as up to 20 units of Botox or 50 units of Dysport.
SCHEDULE YOUR APPOINTMENT TODAY!
CONTACT US AT: (713) 799-9999
---
 SILKPEEL SPECIAL OFFER

ACPS is the first plastic surgery practice in Houston to offer SilkPeel, a completely new technology that combines the benefits of dermal abrasion with the benefits of dermal infusion for results that are superior to either.
Get a treatment for $150 (regularly $200-$350),
and if you enjoy your treatment, you can lock in that price with a package of 6!
Offer valid through September 30, 2016 only.

HOW DOES SILKPEEL WORK?
The SilkPeel system aggressively removes dead skin cells and unclogs pores. Then, it infuses 1 of 4 different medicated solutions, depending on your desired treatment:
1) Lumixyl® skin brightening for patients that suffer from uneven pigmentation, sun damage, hyperpigmentation, and melasma
2)ClarityMD® for clearing acne caused by bacterial infections, clogged pores, and excess oil production
3) Skin Hydrating with Hyaluronic Acid for moisturizing chronically dehydrated skin, which will help reduce the signs of aging, including the appearance of fine lines and wrinkles
4) Vitamin C for correcting environmental damage that causes dull, tired skin
DO YOU HAVE STUBBORN DOUBLE CHIN FAT? ELIMINATE IT WITH ONE OF OUR DOUBLE CHIN TREATMENTS!
KYBELLA

89% Worth It Rating on Realself.com
Kybella is the first and only non-surgical, injectable solution for reducing moderate to severe submental fullness, also known as double chin fat. It is made from deoxycholic acid, a chemical produced in the body, which naturally helps absorb fat.
Get $100 off Kybella (via BB rebate) through September 30 only.
 COOLSCULPTING MINI TREATMENTS
83% Worth It Rating on Realself.com


We can also treat double chin fat with the CoolSculpt Mini applicator for the CoolSculpting device, the only FDA-cleared, non-surgical fat reduction treatment available that uses controlled cooling to eliminate stubborn, diet- and exercise-resistant fat.
Get $100 off CoolSculpt Mini Treatments through September 30, 2016 only.


AS A TOP TIER SCULPTRA AESTHETIC PROVIDER, THE AESTHETIC CENTER FOR PLASTIC SURGERY (ACPS) IS PLEASED TO EXTEND THE FOLLOWING SAVINGS TO OUR VALUED PATIENTS.
SCULPTRA® AESTHETIC — SAVE UP TO $525 ON A FULL TREATMENT COURSE*
Sculptra Aesthetic stimulates collagen production deep within the skin to restore youthful volume and suppleness to your facial appearance. Results can last more than two years. If you receive a full course of Sculptra Aesthetic, you will qualify to receive the following savings:
1st treatment – $150 off
2nd treatment – $175 off
3rd treatment – $200 off
*while supplies last