NeoGraft Hair Restoration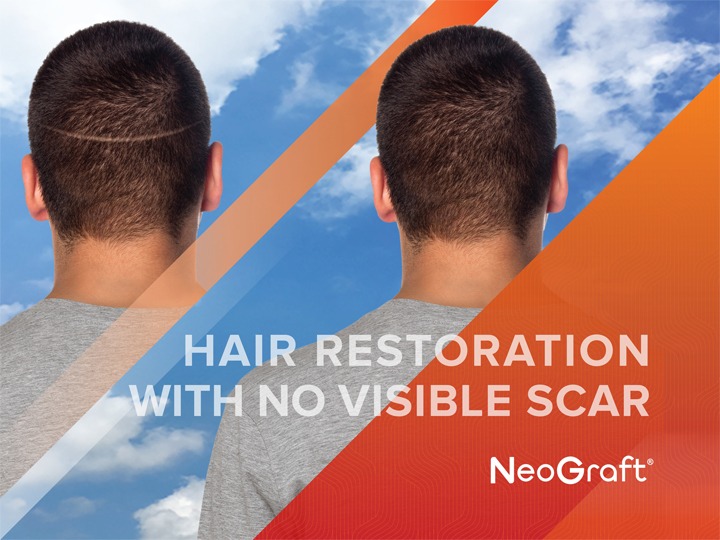 The current hair transplant landscape is being significantly transformed by a new automated FUE (follicular unit extraction) technology called NeoGraft. This technology offers tremendous benefits over traditional follicular unit transplantation (FUT) technology, which is also called strip harvesting. FUT is an invasive surgery that involves excising a small section of the scalp. The traditional surgery leaves a significant wound which requires to be stitched up.
However, this problem can be avoided with a NeoGraft. Board certified plastic surgeons at the Aesthetic Center for Plastic Surgery (ACPS) provide NeoGraft hair restoration treatments to patients in Houston, Texas, TX, and surrounding locations.
Understanding the NeoGraft Procedure
NeoGraft hair restoration technology is a fully automated procedure which is safe and convenient. Your plastic surgeon may recommend this procedure because of its obvious benefits over manual and traditional techniques. NeoGraft Automated FUE and Implantation System negate the inefficiencies and challenges posed by manual FUE treatments.
The NeoGraft system is a Class One automated medical device and the most popular among current hair transplant procedures. It is FDA approved for the purpose of hair restoration. Your cosmetic surgeon will not need forceps for harvesting hair follicles under the NeoGraft system. This ensures that all hair follicles remain healthy and robust while re-implantation.
Your hair follicles will be removed individually. The surgeon will not excise any part of your scalp for this procedure. This shortens the overall procedure duration as well. The process is completely automated and time effective unlike other manual FUE procedures.
NeoGraft has already garnered immense popularity in hair transplant circles for being an almost painless and minimally invasive procedure. There is no need for incisions, which means you don't need to worry about scarring. Scarring can counteract healthy hair activity and limit your hairstyle options.
Advantages of NeoGraft
There are several benefits of getting a NeoGraft procedure. Few key benefits over traditional techniques are:
No suturing, incisions, or conspicuous scarring
Minimally invasive treatment
An automated procedure is used to extract each targeted hair follicle. This leaves surrounding nerves, blood vessels, and tissues without damage.
The procedure is almost painless. It can be performed under local anesthesia. You are comfortable yet conscious during the procedure.
Each follicle is well-preserved and each graft is uniform
Procedure takes less time
Faster recovery
Results of NeoGraft
NeoGraft hair restoration system allows for better and more natural looking results. The outcome is more effective as opposed to other manual traditional procedures. In a single setting, NeoGraft technology can transplant double the amount of hair follicles as compared with other surgical techniques. This removes the need for any other additional procedures.
NeoGraft offers safe results and minimal post-operative pain. Risk of complications is also reduced since the procedure is automated and minimally invasive. You can wear your hair in any style you want without having to worry about scars showing. The procedure doesn't leave any linear scar on the scalp.
Cosmetic surgeons at ACPS receive patients from Houston, Texas, TX, and nearby areas for the safe and proven NeoGraft hair restoration treatment.
For more information about The Aesthetic Center for Plastic Surgery (ACPS) physicians and the cosmetic surgery treatments and procedures they perform please click here or call us at 713.799.9999. We have offices in and around Houston, Texas.
Click here to see our pricing list.
Serving The Woodlands, Sugar Land, Katy, Friendswood, Pearland, League City, Richmond, Spring, Humble, Kingwood, Stafford, Cypress, Fulshear, Missouri City, River Oaks, Piney Point, Hunters Creek, Memorial Close In, Bunker Hill, Southside Place, Afton Oaks, Tanglewood, Crestwoods and all other surrounding Greater Houston, Texas communities and more.