Dermaplaning Facial Treatment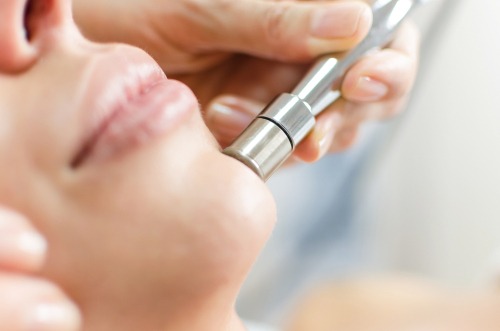 Dermaplaning is a quick skincare routine that gives beautiful results without the need for any downtime. You can get instantly glowing and smooth skin with the treatment. It is perfect as a before-event or special occasion treatment. The procedure allows for makeup to be applied in a better way by taking care of "peach fuzz".
Board certified plastic surgeons at the Aesthetic Center for Plastic Surgery (ACPS) provide safe and proven non-surgical med spa services, including dermaplaning facial treatment to patients in Houston, Texas, TX, and surrounding locations.
Get Rid of Your Peach Fuzz
Scalpel facials have a unique rejuvenating effect on the skin and have become widely popular. Dermaplaning is useful in taming peach fuzz which bothers a lot of patients. Fine hair on the face may look as if they are invisible, but you would be pleasantly surprised when you do remove them. Your skin will feel smoother, and your face will glow once you take care of the peach fuzz.
Patients have often reported that their skin feels as soft as a baby's bottom after dermaplaning. The treatment can easily work on darker and more visible facial hair as well. For these reasons, it has emerged as one of the more popular med spa facial rejuvenation procedures.
Benefits of Dermaplaning
Dermaplaning procedure can be used for removing unwanted facial hair along with other benefits. It works as a physical exfoliant for removing dead hair and skin. It gently scrapes the surface of the skin. In addition to removing dead skin, dermaplaning can also remove dirt and oil that clog pores to cause frustrating breakouts. Hairless skin is claimed to be the cleanest skin by skin experts.
Your skin will not have any hair following dermaplaning. Hair tends to cling to dirt, oil and other debris. You can avoid future breakouts by keeping your skin clear and free from dirt and debris. Dermaplaning helps in deeper penetration of products as well. You should avoid dermaplaning if you have an active breakout or suffer from severe acne.
Dermaplaning Anti-Aging Effects
Dermaplaning takes care of certain facial signs of aging as well. It reduces acne scars, fine lines, and hyperpigmentation. You will notice considerable improvement in the texture and tone of your skin. Makeup tends to glide in a less conspicuous and effortless fashion.
Easy Application of Makeup
Hair makes many women struggle with cosmetic application. You can apply cosmetics easily by removing peach fuzz and dead skin cells. Your face will hold makeup in a better way and will appear better when it has been removed. Powder and foundation make fine facial hair appear more prominent. You don't need to worry about this with dermaplaning.
Gentle and Relaxing Procedure
You may feel intimidated at the idea of having a scalpel shave your face. However, the procedure is amazingly relaxing and enjoyable. You don't need to worry about any tugging motion or harsh chemicals on your face. Dermaplaning is a noninvasive procedure that is safe for all skin types. Ideal candidates are the ones with acne scars, dull skin, dry skin, and fine wrinkles among others.
Cosmetic surgeons at the ACPS receive patients from Houston, Texas, TX, and nearby areas for innovative and advanced med spa services, such as dermaplaning facial treatment.
For more information about The Aesthetic Center for Plastic Surgery (ACPS) physicians and the cosmetic surgery treatments and procedures they perform please click here or call us at 713.799.9999. We have offices in and around Houston, Texas.
Click here to see our pricing list.
Serving Houston, The Woodlands, Sugar Land, Katy, Friendswood, Pearland, League City, Richmond, Spring, Humble, Kingwood, Stafford, Cypress, Fulshear, Missouri City, River Oaks, Piney Point, Hunters Creek, Memorial Close In, Bunker Hill, Southside Place, Afton Oaks, Tanglewood, Crestwoods and all other surrounding Greater Houston, Texas communities and more.