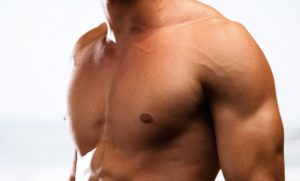 Male breast enlargement or gynecomastia can be corrected in a safe and effective way with breast reduction plastic surgery.
At the time of the initial consultation, the surgeon will inform the patient about various facets of the procedure to enable them to make a judicious choice.
Certain surgeons may also display gynecomastia before and after images during the pre-operative consultation to allow the patient to comprehend the potential effectiveness of this procedure.
Board certified plastic surgeons at the Aesthetic Center for Plastic Surgery (ACPS) provide gynecomastia surgery to patients in Houston, Texas, TX, and surrounding communities.
What are Gynecomastia Before and After Photos?
Gynecomastia 'before and after' images refer to pictures of previous patients who have received the same procedure with successful outcomes. These pictures include images taken prior to the surgery and after the procedure at a time when the post-operative bruising and inflammation is resolved and the complete effects of the procedure manifest.
The surgeon will ensure that the images are taken only with the patient's express consent and presented to new patients in a judicious and discreet manner. The identity of the patient will be kept private as per standard protocol.
The sole purpose of the surgeon is showcasing these images is to use these pictures as a visual aid to inform new patients about what gynecomastia surgery can and cannot achieve for them.
ACPS does just this. The images on the website could not be more plentiful and offer anyone with this issue the ability to extract what they see on the website and apply it to their own body. You can do this from anywhere you want.
Benefits
Upon considering male breast reduction cosmetic surgery, a new patient may have only a vague idea of how the treated site will look after the procedure.
They may want to understand more clearly whether their personal aesthetic requirements will be met with this procedure. Certain patients may require surgery in only one breast. Yet others may require it in both breasts.
The amount of breast tissue to be eliminated through excision or liposuction will also differ between patients. Regardless of the case, the patient will be better positioned to make a judicious decision when he has access to gynecomastia male breast reduction before and after images.
What is truly phenomenal about this is that any potential patient can make this determination without having to make one phone call. Without having to make one email as well. These images can be seen on a beach in Cabo San Lucas or while walking down the sidewalk in downtown Oklahoma City. As long as you have Internet access, you can grasp the power of these images anywhere.
Reasonable Expectations
Patients typically accomplish the highest satisfaction levels from any cosmetic procedures when they have a positive mindset, concise goals, and reasonable expectations.
Therefore, experienced plastic surgeons choose to showcase gynecomastia surgery before and after pictures to new patients during the first appointment itself.
After the patient understands what this surgery can and cannot do for them, he will be better able to appreciate the final outcomes. This simple initiative will reduce the risk of any future disappointments for the patient.
Pictures on the Website
The surgeon may choose to display gynecomastia surgery before and after pictures on their practice website which is certainly the case here. This will allow new patients to conveniently access these images online in the privacy of their home or office (as already mentioned), and then decide on setting up a personal gynecomastia consultation with the plastic surgeon.
Transparency is key here and ACPS, like their championship baseball team, has nothing to hide. Their work speaks for itself which is why they have one salient image after another on their website. Any time a surgeon makes a patient feel at ease increases the chances that that person will make a better decision.
With the patient feeling comfortable with the decision they made then when it comes time for surgery they will be more relaxed and have a better understanding on what to expect. This is better for everyone involved as already mentioned.
Cosmetic surgeons at the ACPS receive patients from Houston, Texas, TX, and nearby areas for male breast reduction.

For more information about The Aesthetic Center for Plastic Surgery (ACPS) physicians and the cosmetic surgery treatments and procedures they perform please click here or call us at 713.799.9999. We have offices in and around Houston, Texas.
Click here to see our pricing list.