The Low Cost Liposuction
The liposuction procedure, also known as lipo, is a common and safe medical procedure to remove fat surgically using a thin cannula or hollow tube.  Lipo is the most common cosmetic procedure with over 246,000 liposuction procedures performed in American in 2017 according to the American Society of Plastic Surgeons.   Liposuction can be performed almost anywhere on the body you have unwanted fat however it is still a surgical procedure which carries with it the cost of not only the surgeon but the surgical facility and anesthesia.    This procedure can be expensive for even those with a small amount of fat.
The high cost but perceived simplicity of this procedure has caused a boom in many cheaper options from lasers and cryo procedure which can be minimally effective but far from surgical level results, to doctors with no plastic surgery experience trying to sell themselves as "cosmetic surgeons". This has led to the dissatisfaction of many patients who either invested in a non-surgical option or in a poorly trained surgeon; neither of which provided the results desired or expected.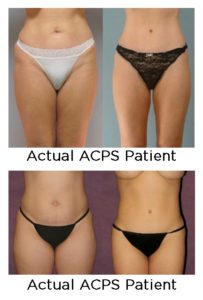 Low Cost option with a Highly Trained Plastic Surgeon
Only a plastic surgeon is trained to safely and effectively perform liposuction.   The Aesthetic Center for Plastic Surgery (ACPS) is Houston's premier plastic surgery practice.  We are not only one of the nation's most awarded plastic surgery practices but we are also a teaching institute.  Our fully trained board eligible plastic surgeons spend a year honing their aesthetic surgery skills under the tutelage of some of the nation's top plastic surgeons.   The ACPS fellowship program is an opportunity for patients to have a highly trained plastic surgeon perform your liposuction for a far lower cost than our standard rates.  These surgeons work directly under some of the biggest names in plastic surgery.
ACPS Fellowship Liposuction Rates:
$3500 for 1 area of liposuction*
$1000 for every additional area*
* These rates include the surgeon fees, the surgical facility fees, anesthesia fees and all follow-ups for up to 1 year. Common costs not covered include any compression garments or prescriptions if needed. All fellowship surgeries take place on Mondays.
Just because our fellowship rates are far lower than our regular rates does not mean we treat you any differently. All patients get the same level of customer service ACPS is known for.
The ACPS Fellow

Dr. Amaka Nwubah is this year's ACPS Fellow. If you would like to learn more about Dr. Kwubah please click here. Dr. Amaka as she likes to be called graduated from the Vanderbilt University School of Medicine in 2011 and completed her plastic surgery residency at the University of Kentucky from 2012 – 2018. She was selected as the ACPS Fellow in July of 2018 from among many highly qualified candidates. She is an excellent surgeon with a wonderful bedside manner.
Complimentary Consultation
Dr. Amaka offers no cost consultations. Please call 713-799-9999 or fill out the contact form here to schedule an appointment.