ACPS's award-winning plastic surgeons combine artistry and extensive surgical expertise to achieve impressive, natural-looking results. Our surgeons have chosen to focus exclusively on the specialty of aesthetic plastic surgery.
ACPS has an attentive, compassionate team of highly skilled staff members, many of whom have been with ACPS for more than 10 years. Our dedicated staff is committed to ensuring your surgical experience is unforgettably positive and rewarding from start to finish.
ACPS's licensed, accredited private surgical center fulfills the most stringent industry requirements for equipment, operating room safety, and staff credentials. These high standards are provided in a warm, comfortable setting that makes every guest feel special.
A full range of "Added Touch" services are integrated into the surgical plan to support your recovery from surgery, including our exclusive home health program, in which a medical professional from our staff visits your home or hotel accommodations a day or two following surgery to monitor your recovery
ACPS surgeons established the ACPS Center for Clinical Research and Education to advance the science of plastic surgery and provide mentoring for medical professionals who visit from around the globe. Through their research, our physicians have built an influential presence in the scientific community while always staying focused on the primary goal to provide patients with exceptional results in a welcoming, supportive environment.
"Our goal is to make each patient's experience as special and comfortable as possible. They're making life-changing decisions, and they're receiving life-changing results.
One of my favorite aspects of working at the SurgiCenter is just watching the phenomenal results our surgeons are able to achieve. we meet a lot of patients not just from around the Texas, but from all around the country and world."
– Becky Tittle, RN ACPS Nurse Manager
---
The Sugeon & Staff Partnership
At The Aesthetic Center for Plastic Surgery, we believe that the consistent delivery of great customer service from a compassionate, skillful staff is as essential as providing superb aesthetic results. Fostering a positive workplace environment that encourages staff loyalty and dedication has been key to achieving this goal, with many staff members celebrating more than 10 years working for the practice.
Our surgeons and staff understand the mixture of hope, and concern that our prospective patients may feel when they first walk through our doors for a consultation. Our staff strives to make certain that every patient is treated with dignity and respect and that the privacy of patient information is protected. Every step of the way, we will provide you with support, guidance, and attentive care to ensure you have an unforgettably positive and rewarding experience with us.
---
Expertise & Artistry
ACPS surgeons have chosen to focus exclusively on the specialty of aesthetic plastic surgery for the body, face, and breasts. Perhaps more than any other specialty, plastic surgery requires its most talented practitioners to be as skillfully adept in their artistic ability as they are versed in scientific knowledge and plastic surgery's extensive range of operative techniques. Our physicians have undergone the years of intensive education and training that have equipped them to perform these procedures skillfully and safely. Their diligent pursuit of excellence and their track record of success across all three spectrums of surgical expertise, artistry, and safety have established ACPS surgeons as cosmetic plastic surgery specialists who are respected by their colleagues worldwide.
---
ACPS Center for Clinical Research & Education

ACPS was one of the first private aesthetic plastic surgery practices in the nation to establish its own in-house research center with the mission to advance the science of plastic surgery in both the national and international communities.
The group developed groundbreaking new surgical techniques and safety methods which they evaluated through clinical studies. Their published research has garnered worldwide recognition, leading to speaking invitations to plastic surgeons at national and international meetings and a best published article of the year award from one of the industry's most respected publications, the Aesthetic Surgery Journal, the official journal of the American Society for Aesthetic Plastic Surgery.
In addition, the group developed a teaching and mentoring program for plastic surgeons and residents who travel from across the globe to observe ACPS surgeons and sharpen their surgical expertise. Through these endeavors, ACPS established an influential presence within the scientific community, providing patients with the best of both worlds: the personalized setting of a private facility that is on par with Houston's famed Medical Center in the quality of its research.
---
Comprehensive Care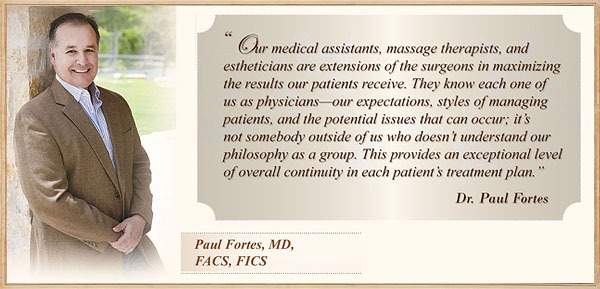 ACPS surgeons developed an "Added Touch" program of services designed to prepare patients for surgery, support and speed their postoperative healing, and help them look and feel their best every day. Beyond making each patient's surgical experience more pleasant and enjoyable, these services and the staff members who provide them serve as an invaluable communication link between our physicians and their patients.
Home Health Visits
As part of this exclusive service, patients recovering in the Houston area are offered a private visit to their homes or hotel accommodations a day or two after surgery from a certified medical professional who monitors their recovery, changes bandages, and educates the patient's caregiver in providing appropriate care techniques. This member of our team provides your ACPS surgeon with an update on your recovery, which allows him to assess and address any potential concerns.
Therapeutic Postsurgical Massage
Our licensed massaged therapists designed this gentle massage, which blends lymphatic and Swedish massage techniques, to provide the following benefits: reduce bruising and swelling, help you regain your flexibility and range-of-motion, and stimulate nerve endings to diminish numbness.
Vitamin Recovery Support Program
These vitamins—taken two weeks before and after surgery—are formulated with nutrients that speed wound healing, support the immune system, prevent infection, minimize inflammation, and reduce bruising. Known for their beneficial role in the healing process, these nutrients include vitamin A, vitamin C, copper, selenium, bioflavonoids, bromelain, quercetin, and homeopathic Arnica Montana.
Added Touch Medical Spa
Fresh and glowing skin is the foundation of a youthful, healthy appearance. At ACPS – The Spa and Rejuvenation Center , which has locations at both our Galleria and Town and Country area offices, our knowledgeable skin care experts specialize in helping you to achieve and maintain fresh, radiant, youthful-looking skin at every age. We offer a variety of laser services, chemical peels,microdermabrasion treatments and pharmaceutical-grade skin care products to improve skin concerns such as sun damage, fine lines, pigment irregularities, vascular lesions, rosacea, and acne.
Nonsurgical Treatments
---
Commitment to Excellence